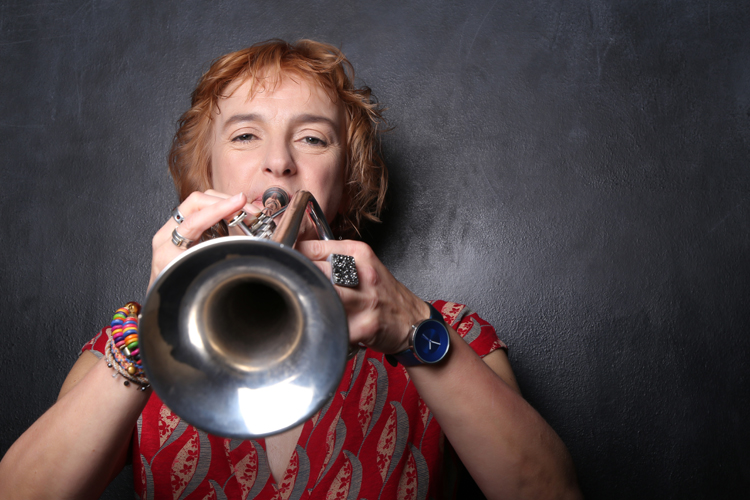 Kay Charlton MA, BA Hons, LTCL
Kay is a trumpet player, composer and educator. She is passionate about music education and has worked for over thirty years as a peripatetic and whole class instrumental tutor and as a KS2 music curriculum teacher, workshop leader and composer.
After taking a music degree at the University of East Anglia in Norwich, Kay started musical life in London, playing the trumpet with various groups and teaching brass in schools across the capital. In 2018 she completed an MA in Music Education, the 'Teaching Musician,' at Trinity Laban Conservatoire of Music and Dance, and was delighted to be awarded the Director's Prize for Excellence in Music Education. Her Masters dissertation was on developing repertoire for whole class ensemble teaching (WCET), the music is now published by Warwick Music and is available for all WCET instruments.
Kay has continued to develop her research into teaching WCET – her book, 'How to Teach Whole-Class Instrumental Lessons: 50 inspiring ideas', was published by Collins Music in 2020.
Kay has composed examination pieces for Trinity College London and has brass/wind tutor books published by Warwick Music, Kevin Mayhew ('Flavour Fusions'), and Clifton Edition Ltd ('Bollywood Blast!'). Her book of WCET repertoire & backing tracks, Are You Ready?, has been converted into a series of online tutorials by MusicGurus, and she has delivered workshops based on this repertoire and her aural approach at the First Access Forum, Music Education Expo and as CPD sessions for Music Hubs. She composed the songs for Warwick Music's pBuzz KS1 resource pack, which was awarded five stars in Teach Primary Magazine, and has also composed six songs in Global styles – from South African Gumboots to American minimalism for Kapow's KS2 whole class instrumental programme.
Kay has been a visiting tutor on the BMus course at Trinity Laban, delivering sessions on teaching WCET and has delivered similar sessions for Music Masters PGCEi. She is a consultant for Music Education Solutions and is a mentor for their Trinity CME course, Kay has also mentored students for the Music Masters PGCEi.
Kay writes regularly for Music Teacher Magazine, has created resources for LSO Discovery and LPO Creative Classrooms, and delivers school workshops and creative CPD for schools and teachers across the UK.
Alongside her work in education, she plays the trumpet with the Bollywood Brass Band who play at venues and festivals internationally; Kay leads on their comprehensive education and workshop offer, co-founding the Bollywood Brass Academy in 2017, with a focus on resources and workshops to promote instrumental progression after WCET.