Many of Kay's compositions are for education – she particularly likes writing for beginners and young players and is passionate about giving children fun music that is inclusive and authentic. This ethos extends to her compositions in general, whether for education or otherwise.
"Thanks once again for your fun and stimulating materials. Anything that adds a bit of
fun to the initial stages of learning brass is very welcome." Martin, Glasgow
Tutor books & WCET repertoire
Kay has written specially commissioned pieces for Warwick Music's pBuzz KS1 resource pack, which was awarded five stars in Teach Primary Magazine and she composed six songs in Global styles – from South African Gumboots to American minimalism – for Kapow's KS2 whole class instrumental programme. The music was commissioned through Music Education Solutions, listen to excerpts on Soundcloud here.
'Kay has written a contemporary classic of the primary music genre'. Dr Elizabeth Stafford, Director of MES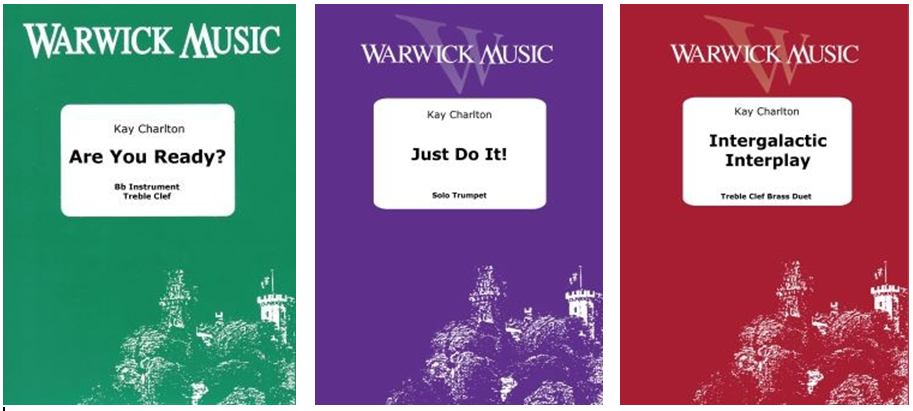 Kay focussed on repertoire for Whole Class Ensemble Tuition as part of her Masters studies, this resulted in the publication of 'Are You Ready!'. a book of simple, progressive melodies in various styles designed for teaching by ear – fun tunes with differentiated parts, improvisation and copy-back sections and lyrics and actions to aid aural learning. Each piece is accompanied by a lively, downloadable backing track. There are transposed versions for violin, alto saxophone, flute and pBuzz, all Published by Warwick Music and the music is also available as an online course through Music Gurus. 
A primary school programme in Trinidad and Tobago is using the pBuzz version of 'Are You Ready?'.
Tutor books – 'Just do it!', 2021, is a set of unaccompanied pieces in various styles for grades 3-6, which Kay tested on her pupils as always. Each title has a positive message, and is based on the rhythm of the tune's first few notes. 'Intergalactic Interplay', 2022 is a set of duets for grades 1-3 with a space theme; titles include Martian Duel, Black Hole and Jupiter Jazz.
Diverse Repertoire
Kay plays in many styles of music and she feels strongly that children should have access to hearing and playing music from around the world. Bollywood Blast! (Clifton Edition) is a series of tutor books and arrangements for brass and wind for beginner to grade 1 with backing tracks. They were written as part of a Bollywood Brass Band education project and are designed to get children playing in a Bollywood style. Flavour Fusions is part of a series of ensemble music in global styles.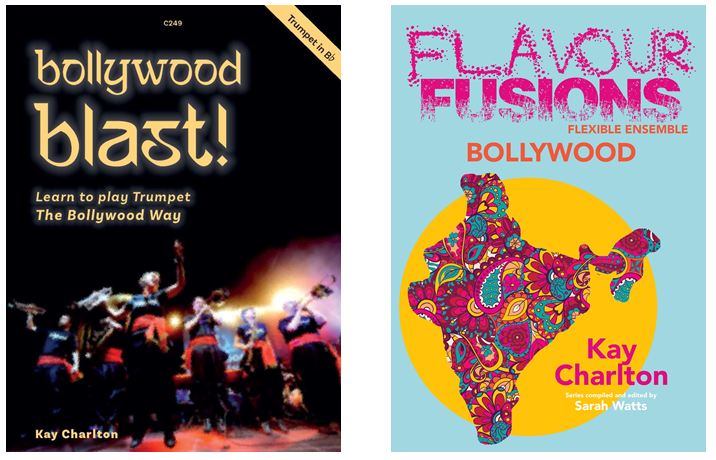 Trinity College London – piano syllabus 2023
Kay has had three pieces on the piano syllabus since 2017. The first, Easy Living, was commissioned after an open call for compositions. The pieces have been played in exams by children all over the world!
Initial – 'Tickery Tockery'
Grade 1 – 'Walking and Talking'
Initial 2015-17 – 'Easy Living'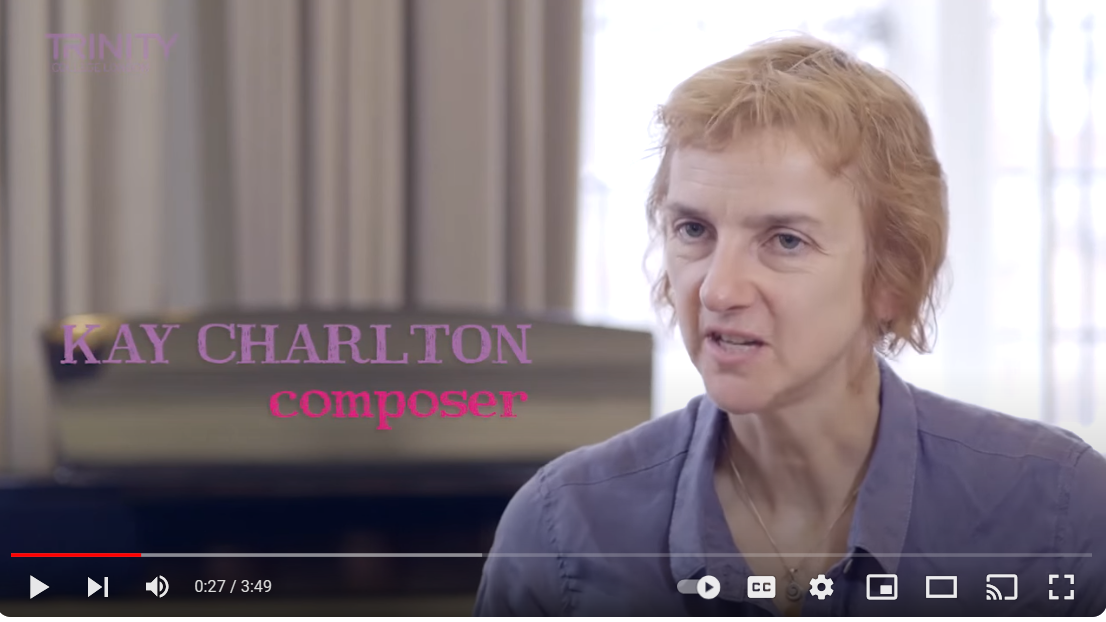 Published in 2014 – Hear from composers Mike Mower, Jake Painter, Kay Charlton and Chris Lawry about what it's like to hear your own composition performed, and why musicians should explore composing.
Bollywood Brass Band
Kay has written arrangements of Bollywood tunes for various ensembles — school bands, wind bands, brass bands and for orchestra. 'Too Cheez Badi hai Mustt Mustt' was performed by the Philharmonia Orchestra at the London Mela 2012. Two of her compositions are part of BBB's live set:
'Ramayana Bites' (2013) – this was written for Bollywood Brass Band's 100 years of Bollywood concert series. The piece accompanies film by Phalke', India's first indigenous film maker.
'Sword Fight' (2016) – written for Bollywood Brass Band's collaboration with South Indian violinist Jyotsna Srikanth. The piece is the second half of BBB's finale music for the 1948 South Indian movie Chandralekha.